Inexpensive ideas for home decoration
An orchard on your terrace? Change a bathtub to a shower? Add vinyl tiles to a wall? It's the season to renew and redecorate your home. And now that spring and summer are coming, maybe you want to make a few changes in your home, and turn it into the best place to spend more of your free time.
Fabric gives you lots of room for change, and now you have an incredible range of textures and colours that will enable you to transform your living space into something totally new.
The main point in using fabrics is that they don't require much time or effort. All you need is a good dose of creativity. And in addition, they're easy to buy by the metre, and you can even order things like cushions, curtains, net curtains, eiderdowns and upholstery in the shape and size you need with the fabric of your choice.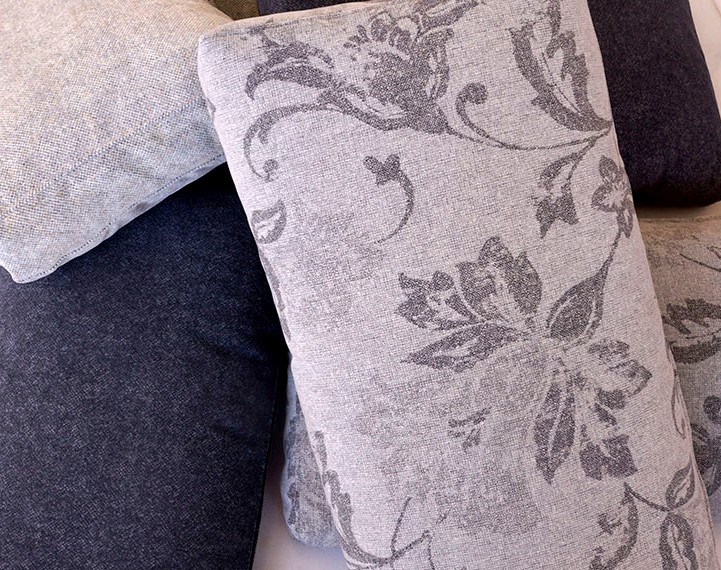 Aquaclean, the fabric you can clean with water only, presents various
collections in its Book Rústika | Vera02 • Evora 12 • Novara 18
DECORATE YOUR HOME WITH CURTAINS
This year, trends are for fully decorated spaces conceived for relaxing and meditation, with styles like Zen, mixing fabrics full of colour, texture and geometrical shapes to provide contrast, and give new life to a room.
The important thing is to bear in mind always that fabrics for the entire room should be fully coordinated, that is, if you decide to buy a rug, some cushions and curtains, the fabric and the prints should match each other and create a harmonious feel.
Harmony and elegance in this ambiance created with Aquaclean, the fabric you can clean with water only,
for presenting collections from our Book 15, Fashion&Protect
ion.
Collection Siena 514
It is very important to bear in mind that the fabric used in curtains is intended to regulate the entry of light, but at the same time it has a lot to do with the kind of ambiance you want to create in the room. This is why you should think about the amount of light you want to let into the room first, and then decide on the right fabric in the right style. Also remember that fabric that is doubled or pulled back, like curtain fabric, shouldn't get too wrinkly or creased, so keep this in mind when choosing curtain fabric as well.
RE-UPHOLSTER AND GIVE YOUR SOFA A NEW LEASE ON LIFE
Just like redecorating with new curtain fabric, you can give new life to your old sofa by reupholstering it, bearing in mind the rest of your décor. Don't just use the same old fabric. Try to create something new and exciting. When you buy furniture, you try to create a symbiosis between your different pieces, so with a sofa fabric, you should think along the same lines.
Perfect fabric matches using Aquaclean, the fabric you can clean with water only, in Book 15, Fashion&Protection. Collections: Sofa: Eternity 12 • Cushions: Eternity 12 & 14 • Euforia 14
When you're looking for curtain fabrics, we've already said you should think about the amount of light you want to allow into the room, so consider the thickness of the fabric. But may you only open and close your curtains once a day. With sofa fabrics, and material for chairs, armchairs, easy chairs, headboards and cushions, they may be subject to much more usage every day, so you should look for fabric that is more resistant to contact and washing when it comes to choosing these fabrics.
THERE'S LIFE OUTSIDE YOUR HOME
Last but not least, we want to give you some advice on fabrics for outdoor use, such as terraces, patios and gardens. If you have to keep food stains, water and other things in mind when it comes to kitchen fabrics, for outdoor use you have to remember things like rain, snow, sunshine and air when it comes to outdoor fabrics.
Fabrics are affected by outdoor conditions and the climate, and wear and tear is greater, but don't worry. There are lots of fabrics on the market today that are specifically intended for withstanding outdoor conditions much longer than ordinary fabrics.
Fabrics that stand up to sunshine, fireproof fabrics, or water repellent materials are some of the varieties that you won't find difficult to find, and these things are important to bear in mind.
New Outdoor collection from Aquaclean
As you can see, these fabrics have a lot to say when it comes to decorating your home, but it's important to consider the points we have mentioned above before choosing. With a little imagination and a few of our tips, there's nothing to stop you from creating your ideal decoration before the next season.
Got any more ideas on using fabric for decorating your home? Tell us about them on Facebook.