Choosing the sofa or armchairs that will be accompanying you for the next 8 years of your life is certainly an important issue. And if you don't do some research first, and think about things before going to the store, you may start having your doubts when the salesperson starts asking questions so as to give you the right advice on your new purchase.
Since we don't want this to happen to you, but we don't want you to waste your time reading hundreds of websites on how to choose the perfect sofa, today we're making it easy for you with these 10 basic tips on finding the armchair or sofa of your dreams without going crazy.
First, it has to catch your eye...
The first thing you'll probably see when you walk into the furniture store is a huge range of colours. Yes, there are sofas in all colours and sizes. But don't let this drive you mad. The first thing to do is to choose the model that you like best, and then find out what colours it is manufactured in, while remembering the place where you want to put it in your home.
Sofa: Velonia 02 | Cushions: Velonia 02 – Nerea 55 – Spirit 55 from the Book Fashion&Fantasy by Aquaclean.
Still, if you're not too sure, our tip is to go for neutral colours, if you remember. These go well with almost any kind of décor, and over time you won't get as tired of them as you probably will with more garish colours.
Comfort above all...
The next step is to sit down and even lie down on the sofa you think you like, to make sure it's comfortable! Here you have to be careful, and above all, remember your preferences. A sofa that comes on as fluffy at first can become much too soft in the long run (and bad for delicate backs!).
Sofa: Haruka 55 | Cushions: Matsue 55 – Mika 55 from the Book Fashion&Love by Aquaclean.
A host of materials are used to make the filling of your sofa or armchair, so you should always bear in mind the kind of use you are going to give it. Will it be used frequently or not? Will children be using it, or pets? Or just you and your partner? The more clues you give your salesperson, the easier it will be for him or her to advise you on the ideal sofa.
Neither big nor small... just the opposite!
Before you go to the store, make sure you have accurately measured the space where you want your new sofa or armchair/s to go. And measure both length and width, as your perspective in the store may make you think the sofa is smaller than it really is. This is because stores usually have large exhibition spaces, and this visually deceives us and makes us think the sofa will fit. 
Textiles and fabrics: the perfect upholstery
This is perhaps one of the most important decisions when it comes to purchasing a sofa. A bad choice may result in your cat scratching open the fabric, or maybe difficult cleaning, or perhaps it will get all full of dust whenever you open a window – making maintenance really tough. As always, we recommend using upholstery treated with Aquaclean Technology®, which is the best option on the market if you want to enjoy your sofa 100% without worries of any kind.
Sofa: Linova 40 | Cushions: Euforia 510 – Eternity 510 from the Book ashiFon&Protection by Aquaclean.
In all shapes...
Just as important as the size is the shape and type of sofa you choose. There are plenty of types and models of sofas: round, square, rectangular, chaise-longues, sofa-armchair combinations, chesterfields, modular styles... In choosing, everything really depends on your personal taste and your budget.
Listen to your décor...
Although it may sound obvious, we often get carried away by current fashions without stopping to think about what we already have. You should take care at this point, because you may go for the coolest sofa model in the store only to find that when you get it home, you have to change your other furniture or your curtains because it doesn't match them very well.
Sofa: Iruma 02 | Cushions: Iruma 02 – Eternity 02 from the Book Fashion&Protection by Aquaclean.
Height is important...
The height of the headrest is very important to bear in mind when choosing a good sofa. The world's most comfortable sofa may end up giving you a stiff neck if you misjudge the height of your neck and head.
Price vs. Quality
It's generally true that we look for the best deal, combining good-looks with low cost, but unfortunately, these two rarely do combine in the form of a bargain. Remember, you are buying something for the long term (no one expects you to change your sofa every 2 years). So to avoid skimping on quality at a lower price (because sometimes cheap means dear in the long run), don't just go for price. Your health and comfort are also at stake.
Sofa Mirina 34 | Cushions: Mirina 30 – Ática 34 – Mirina 34 from the Book Fashion&Sensations by Aquaclean.
Accessories? Why not?
Not everyone likes extras, but if you love cushions and other accessories on the couch, make sure you get an option to buy them at the same store you're getting your sofa from, as it is sometimes complicated to find them later.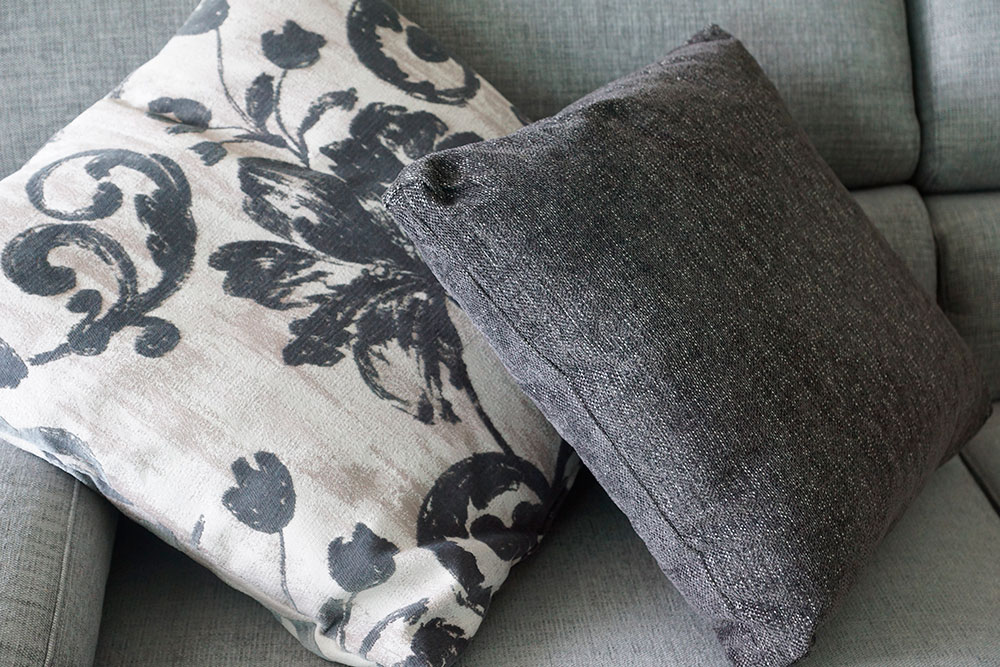 Sofa: Naomi 213 | Cushions: Matsue 13 – Naomi 13 from the Book Fashion&Love by Aquaclean.
And finally...
One last tip is, after evaluating all your options, if you're not really sure about your purchase, walk out and don't buy anything. It's better to think about things a little at home before getting  carried away by the thrill of the moment and buying the first thing you see at the store, maybe because there's a sale, a special deal or a promotion…
We hope these 10 tips will be helpful to you when it comes to the difficult moment of choosing a new sofa. And don't forget; let the pros at your trusted furniture store give you advice, so you can feel good about taking home the sofa you really want.
If you have any other practical advice to get things right when buying a new sofa, you're invited to share it with us on Facebook.