La decoración de un salón tiene su propio léxico y es importante, a la hora de referirnos a las cosas por su nombre, hacerlo adecuadamente.
Sofás de 2, de 3, juntos y revueltos
A sofa for one? It's not a sofa, it's an armchair. Sofas, couches, settees, divans, lounges and canapés... How many names do we have for the same thing? Don't worry, they're all OK, as long as you can distinguish an armchair from a sofa.

Armchairs can be straight or reclining – the ones with a lever on the side to open out a footrest – but it's not as usual to have a reclining sofa, although they do exist.
The normal set-up is either a two-seater sofa (aka lovenest) or a three-seater sofa, or in Spain there's a special one-word name (tresillo) for a three-piece suite comprising sofa, and two armchairs.
In addition to sofas, armchairs and 3-piece suites, there are other possibilities such as chaise longues, sofa-beds or convertibles, futons, pouffes, easy chairs and divans, all similar, but with different uses and characteristics. Here's a rundown of the different characteristics so that when you go out to buy, you know exactly what you're looking for.
First, let's talk about the armchair, which has been produced since no less than Egyptian times (source Wikipedia)! The armchair, as we said above, is a chair with arms made for seating one person. It has a back that is wider than a normal chair. The two arms give it more bulk and play an important role in making it more comfortable.      
One of its main characteristics is that the armchair is conceived for sitting more or less upright, but this doesn't mean it is any less comfortable than a sofa – it just keeps you sitting in one position, whereas on a sofa you can lie down if you want.
Aquaclean, the fabric you can clean with water only, presents its
collection called Matsue (42)) from Book 16 Fashion&Love by Visual Textures
The development of armchairs up to today, the changes in design and finishes, as well as the fabrics and material used, give us a wide selection of choices. You can choose from armchairs with reclining backs, footrests, leather, special fabrics for better cleaning, and even accessories such as built-in speakers and other things. The options are incredible, and you should always look for the style that suits you best, bearing in mind that after the bed, where you spend every night, you will spend quite a lot of time in an armchair, so you have to think about the use you will give it.
On the other hand, sofas are different from armchairs in that they seat more people at the same time. A sofa is conceived for at least two people, and sometimes even more. Normally, sofas are for two or three people, and they can be combined with armchairs to form three-piece suites.
Another difference to be noted is that armrests are not as comfortable as in armchairs, as only a person sitting at one end of a sofa has an armrest. But this depends on the sofa model, as you can see in the Chester sofa shown here.
But on sofas, you can lie down, curl up, sit up straight or just relax in almost any position, so sofas offer you a wide variety of postures, depending on whether you are sharing it with someone or not.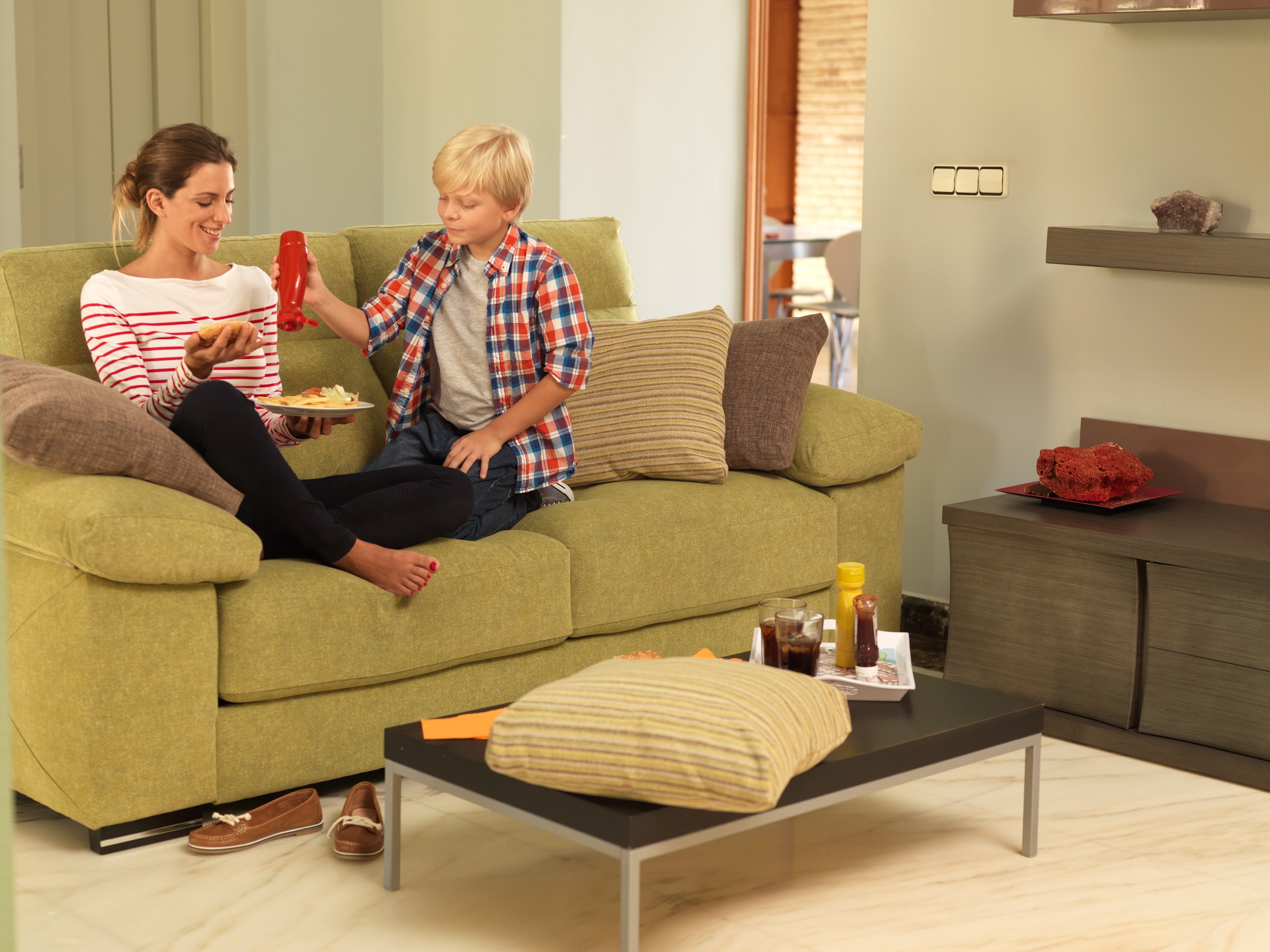 Aquaclean, the fabric you can clean with water only, presents its
collections called Evora (08) and Adra (03) from Book Rustika.
As regards design and materials, the case is the same as with armchairs – there are lots of different options available on the market. Fabrics of all kinds, colours and technologies, or materials as diverse as wood, steel or wickerwork. Finding the option that best suits your needs, and bearing in mind if you are buying for the long term, quality is a major factor for making the right choice.
As for the chaise longue (a long chair in French), this is simply a kind of armchair with an extended foot section. Today it is normally a section of a sofa that creates an L-shaped sofa unit. Its special value is its versatility and comfort, making it a piece of furniture that is in high demand nowadays.
collections called Mika (52), Matsue (515) and Nanao (515) from Book 16 Fashion&Love by Visual Textures.
The models in this type of sofa are usually either 2 or 4 seaters, although there are other options for a greater number of people. From classic upholstery to modern and ethnic designs, the possibilities are enormous.
As you can see, the difference between sofas, armchairs, chaise longues, and three-piece suites and others are considerable, so when you're deciding what to buy, bear in mind use and functionality above all. For example, if you love cushions, you should go in for a nice big sofa. If you expect lots of guests, maybe a 3+2-piece suite will be a good choice. If you like curling up and reading in by yourself, you may want to look at a really comfortable armchair.
So now it's time to choose. What's it going to be?